You've made the decision: the cloud is your next destination. Whether you want to develop new apps, analyze large volumes of clinical data, or deliver other innovative services, public clouds can offer the scale, agility, and cutting-edge technologies you need to achieve your goals.
Unfortunately, depending entirely on your in-house IT staff for deployment and ongoing management of a cloud environment could be a recipe for failure. Your staff members might be well qualified for running your on-premises data center, but chances are they are not experts at setting up, managing, and securing healthcare environments in public clouds.
Partnering with a healthcare cloud managed service provider (MSP) can help you make the most of the cloud, but only if you choose the right MSP for healthcare. Traditional MSPs, which use labor-intensive and error-prone manual processes, might deliver only incremental benefits compared with in-house staff.
Implementing next-generation managed services for healthcare is key. By selecting an MSP that automates cloud management functions, you can move beyond the limitations of manual processes. Automation enables you to accelerate provisioning, streamline security, simplify compliance, and free up your in-house staff for innovative work.
The problems with managing clouds with in-house teams
In moving to the cloud, healthcare organizations—like other businesses—face a serious skills gap with their in-house IT group. In fact, according to one survey, 86 percent of companies, in multiple industries, have identified some kind of skill shortage associated with cloud implementation. In-house teams might lack sufficient knowledge or skills in cloud platforms, cloud security, artificial intelligence & machine learning, data analytics, IT integration, or other cloud functions.
In-house teams might also be unfamiliar with cloud processes, such as cloud-based app development workflows that can speed delivery of new software. Asking your team members to fundamentally change how they operate can be difficult. But if your team ends up treating the cloud just like someone else's data center, you will not get the full value of cloud services.
Training your in-house team can be time-consuming and costly. And even if your team members do learn new skills and earn cloud certifications, they will still lack experience. Meanwhile, hiring skilled, experienced personnel and retaining those workers can also be challenging. IT professionals with cloud skills and experience are heavily recruited and have a high turnover rate.
A skills gap is not just frustrating, it's also dangerous. The healthcare industry accounted for 79 percent of all reported breaches in 2020. If your team does not have sufficient skills and experience for securing a healthcare environment in the cloud, your business could be vulnerable to serious attacks.
At the same time, a lack of cloud-specific expertise can reduce agility—and agility is one of the main reasons that businesses tap into the cloud. A study from McKinsey showed that across industries, 71 percent of business leaders prioritize improved agility and time to market over cost. Agile companies—ones that can respond quickly to changing customer requirements—will be the ones that succeed in competitive fields. But if your team needs to learn new skills or design new processes, you lose the agility and efficiency that the cloud can deliver.
Close the skills gap with a Healthcare MSP
Working with an MSP can help you close the skills gap. Instead of retooling, reskilling, or restaffing your in-house IT group, you can partner with a team of skilled cloud experts. Those experts can help you rapidly provision your environment and improve the efficiency of ongoing management. If you decide to retain some management functions, an MSP can help identify and implement the full suite of tools you will need—sparing you long research, procurement, and development cycles.
By working with an MSP, you can gain agility and reduce the risks of a cloud migration. In addition, an MSP can help your team make the cultural and operational shifts needed for capitalizing on the cloud. The MSP can guide your team through the adoption of cloud-based DevOps and agile continuous integration/continuous delivery (CI/CD), for example, enabling you to achieve cloud benefits faster while eliminating missteps.
MSPs can play a central role in succeeding with your cloud journey. Still, choosing the right healthcare MSP is essential. To truly maximize the value of the cloud, you need an MSP that has the ability to transform key management processes.
Select next-generation services that incorporate automation and AIOps
MSPs that offer transformative, next-generation services capitalize on automation. Automating management functions enhances efficiency, reduces errors, improves agility, strengthens security, and frees up both MSP staff and in-house staff for more strategic work.
Automation addresses several important limitations of more traditional managed services. The traditional MSP operating model depends on humans to conduct routine operations, analyze information, respond to tickets, and address issues. But humans can't analyze the tremendous amount of data generated by cloud environments or respond quickly enough to today's cyberthreats.
In addition, relying solely on humans doesn't scale well. If an MSP needs to hire new staff to support manual processes, the provider's clients will not be able to scale quickly or cost-effectively.
Fortunately, the cloud is ready-made for automation. Many cloud processes—from patching software to implementing strong password policies—can be automated with APIs.
To optimize automation, the best next-generation MSPs embrace AIOps. The AIOps approach incorporates ML and AI capabilities to analyze large data volumes and then correlate events, detect anomalies, determine causes, and deliver insights into the operational workflow. That workflow can then automatically remediate the vast majority of issues. Using an AIOps approach can speed resolution of issues while reducing human workloads.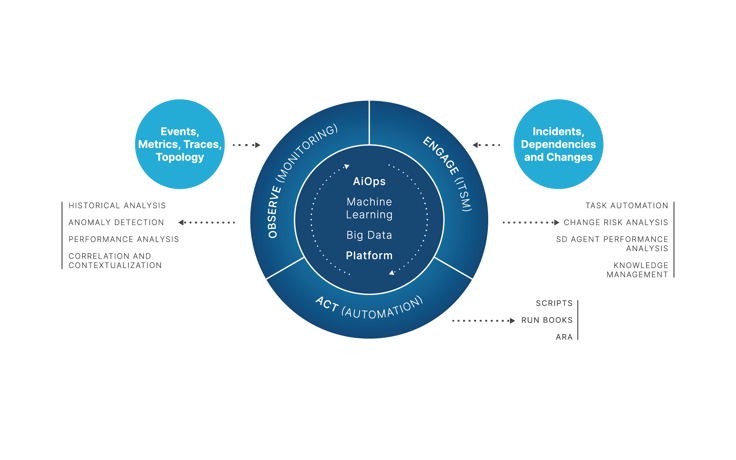 Adopting next-generation managed services for healthcare with Cloudticity
Cloudticity Oxygen™ is a next-generation managed services platform that fully automates cloud administration, security, and compliance. By working with Cloudticity, you can overcome your internal IT group's skills gap by tapping into our team's expertise in cloud-based healthcare IT. And because Cloudticity Oxygen employs automation in conjunction with AIOps, you can move beyond the limitations of traditional managed service models that rely on time-consuming, error-prone manual work.
With these next-generation healthcare managed services for healthcare, you can enhance the benefits of the cloud. You gain the scalability and agility that the cloud can offer while freeing your staff to stay focused on innovation.
To learn more about how Cloudticity Oxygen accelerates healthcare on the cloud, download the healthcare MSP solution brief. Or schedule a free consultation to learn more about what next-gen healthcare managed services can do for your healthcare business.