The traditional MSP operating model, which relies on fully staffed network operations centers (NOCs) to respond to tickets and remediate incidents, is running out of gas for three main reasons:
The massive amounts of data in the modern IT infrastructure stretch the analytical capabilities of humans using database queries to the breaking point – and beyond.
Human response time is far too slow for today's cyberthreats; for example, the average time it takes for ransomware to encrypt your files after execution is only three seconds.
NOCs do not scale well. Adding staff with the right skill sets requires time-consuming and challenging hiring cycles – plus, people are expensive.
Because of this, Cloudticity set out to reinvent the MSP operating model. Our goal was to create a completely new category of intelligent managed services for the modern era; managed services that could be delivered almost entirely via automation in order to achieve the following:
Increase the efficiency and scalability of service
Reduce the need for human resources and the risk of human error
This is why, from the very start, Cloudticity approached managed services as a software challenge, not a people problem.
The Silicon-Carbon Dichotomy
We somewhat playfully refer to this situation as the silicon-carbon dichotomy. Silicon-based intelligence (aka computers) does some things better, while carbon-based intelligence (aka humans) is better at others.
Figure 1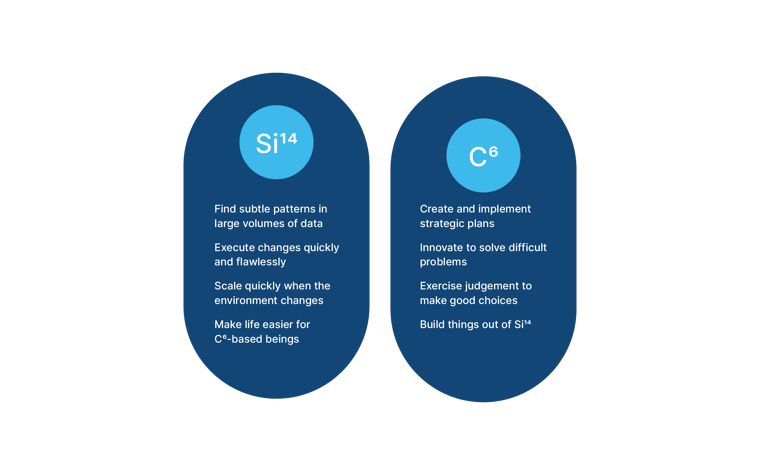 By offloading redundant infrastructure operations and data management tasks to automation we can free talented staff for innovation and strategic initiatives, and we can deliver managed services that offer unparalleled agility, security, reliability, and performance to our customers.
CASE STUDY: On a recent weekend, a node on a Revel Health's MongoDB cluster went down. In the old days, several IT staffers would have had to put their personal lives on hold and scramble to get the system back up. Today, thanks to Cloudticity automation, a new node quickly spun itself up and the application's availability did not suffer.
AIOps: Reinventing the MSP Operating Model
Our commitment to improving managed services via automation led us to embrace the branch of Artificial Intelligence (AI) known as machine learning. One reason is because machine learning is particularly adept at finding patterns hidden in mountains of data that humans couldn't possibly work with.
This led us to adopt an emerging technology known as AIOps. AIOps combines big data and machine learning to automate IT operations processes, including event correlation, anomaly detection, and causality determination. The basic operating model for AIOps is Observe-Engage-Act

Cloudticity Oxygen™ : The Next Generation of Managed Services
Managed services needed a better way, so we created one. Using a combination of automation and AIOps, we developed Cloudticity Oxygen: the world's first and only 98% autonomous managed cloud solution. Oxygen oversees all aspects of operations for healthcare systems and applications while achieving maximum security, availability, performance, and cost savings.
While the overall workflow is complex, this summary will give you a sense of how Oxygen uses AI and operational intelligence to automate remediation when possible, presenting clear choices to operations staff for the 2% of cases that cannot be resolved automatically (See figure 3).
AIOps Workflow

Operations Workflow

Ingest vast quantities of data, including PHI and healthcare messages.
Perform real-time analytics on the streaming data using machine-learning models
Report anomalies to the recommendation engine.
Stores streaming data in a data lake.
Analyze historical data sets using machine-learning models.
Feed insights back to the real-time models to fine-tune accuracy.
Provide context information to the recommendation engine.

(98% of cases) Automatically remediate the anomaly immediately.
(2% of cases) Send ticket to customer with three options: Do Nothing, Fix Now, Schedule
Do Nothing: Take no action, delete ticket after 7 days.
Fix Now: Implement the recommended actions immediately.
Schedule: Perform the recommended actions during the next maintenance window.
Figure 3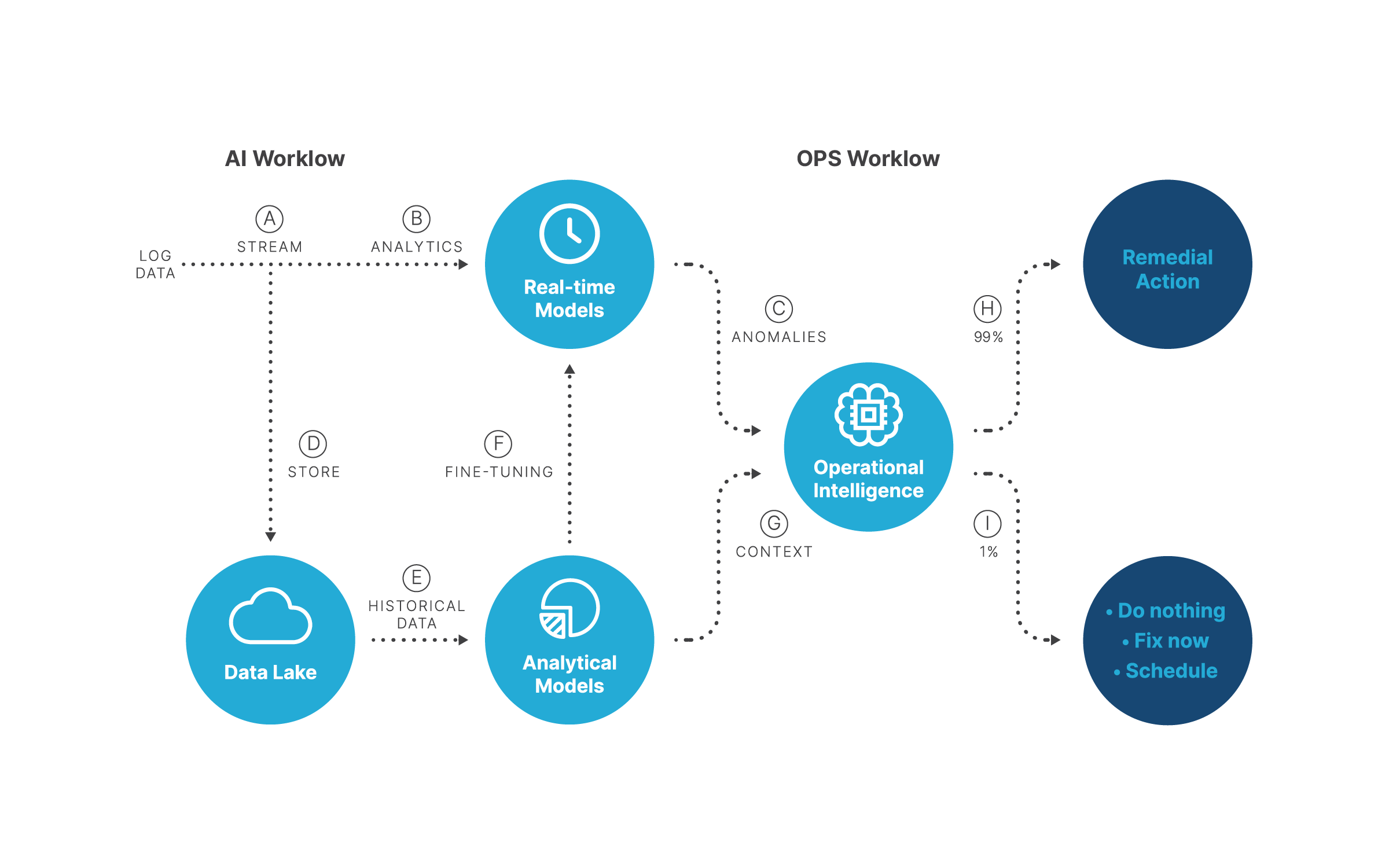 What Oxygen Can Do For You
In the past, many organizations turned to MSPs to offload the burdensome and complex tasks of managing infrastructure – outsourcing a problem, as it were. With Oxygen, managed services become a strategic resource that contributes to the organization's success. Our clients are more agile, able to respond to changing circumstances faster than competitors. They are confident that their applications and data are secure and available, and have the performance and cost management capabilities to drive their success (see Figure 4).
Although the MSP landscape hasn't seen much disruption until now, we hope that more MSPs will adopt these practices in order to improve scalability and service quality to fit the demands of the modern IT enterprise.
To learn more about how AIOps is reinventing managed services, check out the full white paper or schedule a free consultation to discuss how Cloudticity's autonomous managed cloud solution can free your IT department to innovate.