For companies that want to sell into healthcare, HITRUST certification is becoming increasingly critical for success. With 81% of providers and 83% of payers adopting the framework, and many of them requiring their vendors to follow suit, it's difficult to imagine a successful third-party vendor in the healthcare space that hasn't met HITRUST benchmarks.
While many healthcare companies pursue certification when it's required to close a deal or retain a customer, the benefits of being proactive about certification extend beyond customer retainment. Here are 4 reasons your healthcare organization needed HITRUST yesterday.
The Benefits of HITRUST Certification
1. HITRUST helps your business grow
Many covered entities require HITRUST certification of their vendors. In fact, in 2016, five major healthcare payers issued a letter to all their business associates explaining the need for HITRUST within 2 years. In 2018 providers made a similar announcement. Without certification, healthcare vendors will find those large payer and provider accounts out of reach, which can hinder growth potential.
Aside from granting you access to a larger customer base and increased revenue, HITRUST will also shorten your sales and procurement cycles. One of our clients told us that without HITRUST certification, deals take 6-8 months longer due to the rigorous security questionnaires. HITRUST will help your business get deals over the finish line faster while relieving pressure on your IT team.
It can help you get past even the most scrupulous of third-party audits with flying colors.
2. HITRUST is your competitive advantage
There are two ways to look at HITRUST certification. If your competitors are HITRUST certified and your organization is not, they are automatically perceived as better than you – not the kind of differentiation you're looking for. If these roles are reversed then you stand out from the crowd. In some situations, like hospital procurement for example, HITRUST is table stakes. Without it, your organization is not even in the running.
The problem with merely being "HIPAA compliant" is that anyone can claim to be HIPAA compliant since there is no HIPAA certification. In fact, studies have shown that 25% of healthcare fails to meet HIPAA benchmarks. Knowing this, would you completely trust a vendor that claimed to be HIPAA compliant? Since HITRUST is a third-party accreditation body, being HITRUST certified validates that your organization has passed rigorous security audits and confirms that you meet HIPAA security standards.
3. HITRUST simplifies compliance management
The HITRUST Common Security Framework (CSF) covers over 1800 controls across multiple regulatory bodies such as GDPR, ISO, and PCI-DSS. The HITRUST CSF provides mappings of HITRUST controls to requirements in other frameworks, allowing you to easily prove compliance with other regulations. This simplifies compliance management going forward by consolidating multiple regulations into one workflow that would otherwise be separate tasks.
If your customers have other regulatory needs outside of HITRUST, you can use the CSF to map your controls to controls that they care about and ensure coverage. In this way, HITRUST provides a common language for compliance across frameworks and industries, helping you keep your customers at ease.
Along with helping you simplify your compliance workflow, HITRUST also makes it easier to stay up to date with evolving HIPAA regulations. Since HITRUST requires a mini assessment every other year and a reassessment in between those, you'll ensure that your business continues to meet the most up-to-date HIPAA requirements which can save you from expensive fines or liability issues.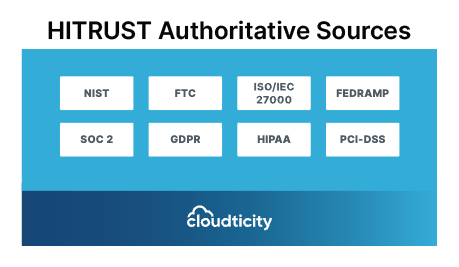 4. HITRUST protects your business and customers
Accreditation bodies such as HITRUST exist because healthcare organizations can't be too careful when handling PHI. The average medical record sells for ten times more than credit card information, making it crucial for organizations to maintain compliant systems. In fact, the healthcare sector accounted for 79% of breaches in 2020 – up from 45% in 2029 – followed by the financial and banking industry at only 12%.
Small businesses are especially vulnerable to the devastating effects of security breaches: 60% of small businesses that suffer successful cyberattacks are out of business within six months. Whether your customers are seeking HITRUST certification themselves or just want to work with a certified provider, you'll need to take every possible step to ensure their data is as secure as possible.
5. HITRUST helps you manage third-party risk
A majority of the healthcare data breaches in 2022 stemmed from third-party vendors, which highlights the need for strong third-party risk management programs. The increase in third-party breaches also suggests that cyber criminals are shifting their tactics to targeting vendors, rather than the health systems themselves. Which further urges caution for healthcare organizations, when selecting business associates.
By becoming HITRUST certified you can take advantage of the HITRUST Third-Party Assurance Program, which allows a streamlined approach to assessing the inherent risk posed by third parties and qualifying third parties for business relationships. It allows you to reduce the time, money, and resources spent on evaluating third-parties.
You can also choose, like many organizations in healthcare, to require HITRUST CSF certification of your business associates. This will minimize your risk profile, and also reduce the time and effort required to manage vendors by eliminating the need to regularly audit your third parties.
How is HIPAA Related to HITRUST?
HIPAA is a government mandated law: all organizations that generate, store, and transmit PHI are subject to meet HIPAA benchmarks or potentially face steep fines. HITRUST CSF is a comprehensive solution that helps organizations comply with HIPAA and other compliance. It is not enforced by the government, however, it has been widely adopted across the healthcare industry as the gold standard for healthcare data security.
Read the blog: HIPAA vs. HITRUST - the Difference EXPLAINED.
How Much Does HITRUST Certification Cost?
That depends on how your organization interacts with PHI, which will be determined by your chosen HITRUST Assessor at the beginning of the process. The price can be anywhere from about $60K to well over $200K.
Want to know how much HITRUST might cost your organization? Try our free HITRUST Cost Calculator tool for a free estimate.