Healthcare industry analysts disagree often, but on one issue, they speak with one voice: The future of healthcare is in the cloud. For years, healthcare has trailed other industries in cloud adoption – now, that gap is narrowing. According to a study by Accenture, about 32 percent of healthcare organizations use some form of cloud computing, just three points below the retail sector and about the same as manufacturing.
The drive to digital modernization in healthcare means that, sooner or later, every Epic installation will be at least partially in the public cloud. And the public cloud of choice is Amazon Web Services (AWS), which holds 40% of the healthcare market for cloud services – more than twice as much as the next competitor. Amazon's dominance of the healthcare market has led Epic to announce in 2020 that it would stop supporting integrations with AWS competitor Google Cloud.
But is Epic on AWS right for you? Let's take a brief look at how migrating to AWS can save operations expenses, reduce downtime, and more.
What is Epic on AWS?
Epic Systems is aptly named. The privately held company has captured 32.9% of the electronic health record (EHR) market, more than eight points higher than its nearest competitor. More than three in four patients in the United States have at least some of their medical information stored in an Epic Systems EHR.
Most Epic Systems software still runs in a data center managed by the hospital itself. However, more and more healthcare organizations are moving at least some of their Epic software into the public cloud– specifically, Amazon Web Services (AWS)--while keeping the rest in the on-premises datacenter as before. Conceptually, you can think of this model as two separate infrastructures – your data center and AWS – sharing the task of running Epic (see figure 1)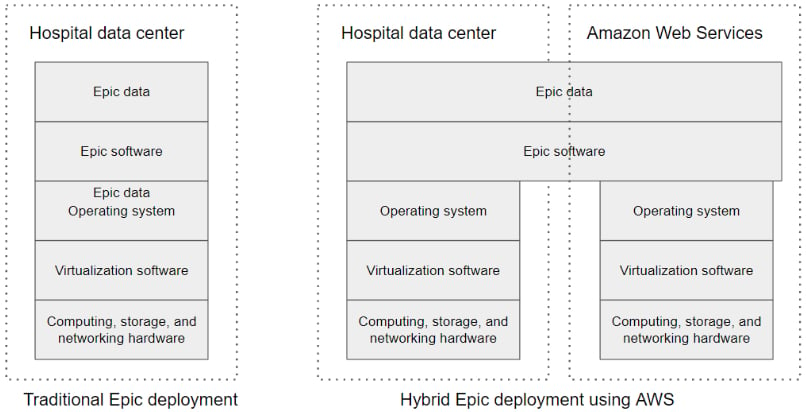 Figure 1. Differences between traditional and hybrid deployments of Epic software
Migrating from this on-premises configuration to AWS is a massive project with costs in the millions of dollars and timelines measured in years. Fortunately, the modular nature of Epic allows hospital executives to move in phases, which spreads out the project expense.
When migrating Epic to AWS, most organizations adopt a phased approach starting with a well-defined, non-production Epic module such as disaster recovery, software development, testing, or training. This approach minimizes the risk of disruption to users while helping the in-house IT staff learn about the differences in running Epic in the cloud versus on premises.
Why Migrate Epic to AWS?
Given the scope and expense of an Epic migration to the cloud, rmanagement will expect a better reason for migrating than "everybody else is doing it." Here are three ways that running Epic on AWS delivers tangible business value to healthcare organizations.
Epic on AWS Reduces Cost
Data centers require capital investments in hardware and software that consume significant financial resources – resources that could be better used for digital transformation of the clinical and patient experiences. Moving to the cloud eliminates the need for these massive expenditures because AWS bears the entire cost of the infrastructure – you are charged only for the resources you actually use through a pay-as-you-go model.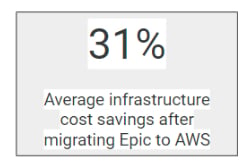 Source: Oxford
Epic on AWS Increases Reliability
Application slowdowns or outages of the Epic system can compromise patient care, increase the risk of lawsuits and regulatory sanctions, and incur substantial expense. AWS is one of the most reliable business services in the world, so the chances of a major outage that affects patient care are much smaller than with on-premises systems.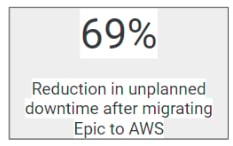 Source: Oxford
Epic on AWS Spurs Innovation
Healthcare organizations must continually add new features and capabilities to keep customer loyalty and maintain a competitive advantage. With Epic on AWS, software engineers can spin up their own development and test environments using self-service portals, without IT involvement in minutes. This approach cuts the time to bring up an environment from days or weeks to minutes. As a result, developers save time and also can afford to try out more alternatives that would otherwise be impractical.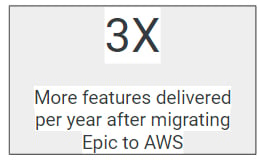 Source: IDC
FAQs
Does Epic run on AWS?
Epic Systems software can be run in whole or in part on the public cloud infrastructure operated by Amazon Web Services (AWS).
Is Epic in the cloud?
Epic Systems software has traditionally been hosted on a data center operated by the hospital or healthcare organization. However, the trend is to use the public cloud – especially AWS – to host portions of Epic while continuing to run other parts locally.
Is Epic a database?
Epic Systems software is at heart a repository of electronic health records (EHRs, also called electronic medical records) and the software tools needed to use those records. One of the Epic tools is a high-performance database that is optimized for the requirements of the healthcare industry.
Why is Epic software so popular?
More than 50 companies offer some form of electronic medical records. Epic Systems leads the pack with 31% market share because of its broad coverage of hospital departments, ease of use, excellent customer service, and willingness to work with clients to customize the software to their needs.
What is Epic used for?
Epic Systems software provides a secure, centralized repository for information about patients, also known as personal health information (PHI). Doctors, nurses, and other care delivery staff use Epic to access historical medical information that they need to create appropriate treatment plans for their patients.
Next Steps
Ready or not, your Epic Systems software is moving to the cloud. That's a good thing for your healthcare organization, but pulling it off requires specialized expertise. Your best bet is to partner with third parties who have the expertise and experience to shepherd you through the process. Look for a managed services provider (MSP) with a sharp focus on healthcare IT, a proven track record, and the willingness to transfer knowledge during the project. Cloudticity is just such a company – learn more here.