Healthcare industry analysts disagree often, but on one issue, they speak with one voice: The future of healthcare is in the cloud. For years, healthcare has trailed other industries in cloud adoption – now, that gap is narrowing. According to a study by Accenture, about 32 percent of healthcare organizations use some form of cloud computing, just three points below the retail sector and about the same as manufacturing.
The drive to digital modernization in healthcare means that, sooner or later, every Epic electronic health records (EHR) installation will be at least partially in the public cloud. And the public cloud of choice is Amazon Web Services (AWS), which holds 40% of the healthcare market for cloud services – more than twice as much as the next competitor. Amazon's dominance of the healthcare market has led Epic to announce in 2020 that it would stop supporting integrations with AWS competitor Google Cloud.
But is Epic on AWS right for you? Let's take a brief look at how migrating to AWS can save operations expenses, reduce downtime, and more.
What is Epic on AWS?
Epic on AWS refers to the function of moving the Epic EHR, or parts of the EHR system, to Amazon Web Services (AWS) infrastructure as a service (IaaS) instead of hosting the application on-premises or other Epic hosting options.
Most hospitals still host Epic Systems software in a data center managed by the hospital itself. However, more and more healthcare organizations are moving at least some of their Epic software into the public cloud – specifically, AWS – while keeping the rest in the on-premises datacenter as before.
Conceptually, you can think of this model as two separate infrastructures – your data center and AWS – sharing the task of running Epic (see figure 1)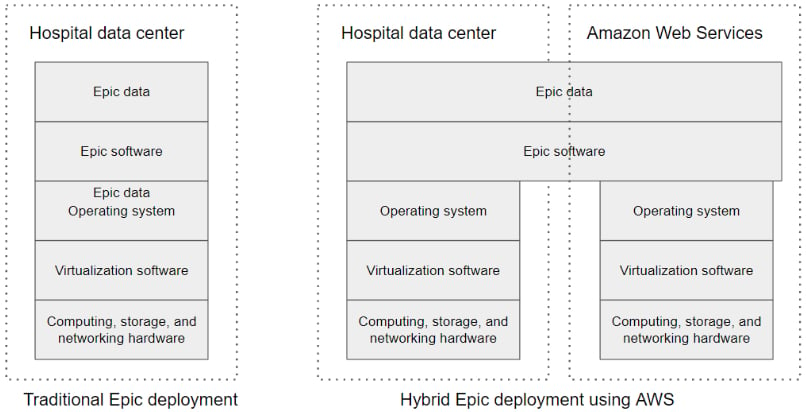 Figure 1. Differences between traditional and hybrid deployments of Epic software
Migrating from this on-premises configuration to AWS is a massive project with costs in the millions of dollars and timelines measured in years. Fortunately, the modular nature of Epic allows hospital executives to move in phases, which spreads out the project expense.
When migrating Epic to AWS, most organizations adopt a phased approach starting with a well-defined, non-production Epic module such as disaster recovery, software development, testing, or training. This approach minimizes the risk of disruption to users while helping the in-house IT staff learn about the differences in running Epic in the cloud versus on premises.
Why Epic on AWS?
Epic requires large capital investments in hardware and management resources to keep it running smoothly. In addition, Epic needs to be continually updated, which can cause issues when planning for server capacity. AWS provides an affordable and near-limitless supply of storage and compute resources that hospitals can provision and spin down on demand. Running Epic on AWS allows organizations to reduce ongoing management costs and complexity, allowing them to focus more on healthcare initiatives instead of IT.
Here are the benefits of moving Epic to AWS.
The Benefits of Epic on AWS
Epic on AWS Reduces Costs
Data centers require capital investments in hardware and software that consume significant financial resources – resources that could be better used for digital transformation of the clinical and patient experiences. Moving to the cloud eliminates the need for these massive expenditures because AWS bears the entire cost of the infrastructure – you are charged only for the resources you actually use through a pay-as-you-go model.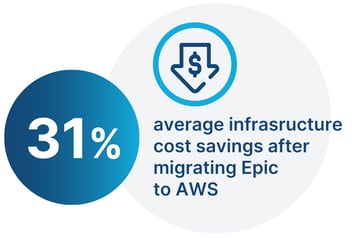 Source: Oxford
There are several ways you can generate cost savings with Epic on AWS, such as a Pilot Light disaster recovery (DR) system, a self-service dev/test environment, and creating dynamic training resources.
Read the blog: Three Ways to Reduce Epic EHR Hosting Costs by Migrating Functions to AWS.
Epic on AWS Increases Reliability
Application slowdowns or outages of the Epic system can compromise patient care, increase the risk of lawsuits and regulatory sanctions, and incur substantial expense. AWS is one of the most reliable business services in the world, so the chances of a major outage that affects patient care are much smaller than with on-premises systems.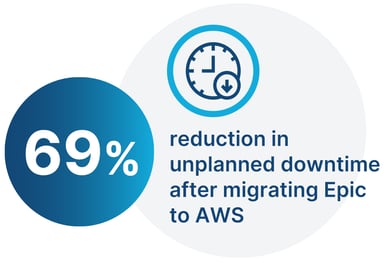 Source: Oxford
Epic on AWS Spurs Innovation
Healthcare organizations must continually add new features and capabilities to their applications to keep customer loyalty and maintain a competitive advantage. But developing features on premises is risky and costly. Developers have to present a strong business case for their projects and then servers must to be provisioned. If the project fails, money and resources are wasted. This riskiness often deters developers from trying new, innovative things.
With Epic on AWS, software engineers can spin up their own development and test environments using self-service portals, without IT involvement in minutes. This approach cuts the time to bring up an environment from days or weeks to minutes. If the project fails, developers can shut off the environment so that resources are not wasted. As a result, developers save time and also can afford to try out more innovations that would otherwise be impractical.
Source: IDC
Epic on AWS Fortifies Disaster Recovery
Disaster recovery for Epic can be just as challenging as managing and maintaining Epic production. Most providers need to evaluate all of the implications to the Epic ecosystem before taking Epic's recommendations for disaster recovery. Epic is typically accompanied by 20-500 "co-traveler" applications that enable additional functionality and interoperability. The entire Epic ecosystem needs to be available in a disaster. Otherwise, clinicians and nurses will work at reduced efficiency.
Moving Epic to AWS allows organizations to spread their EHR across six data centers, or even more if they want, simply by provisioning software. Since AWS manages their own data centers, you can add additional backup locations without having to worry about management of those locations. In AWS, you can deliver business continuity in the face of even the most critical disaster.
Read the FREE white paper: Designing Your Epic EHR Disaster Recovery on AWS
Epic on AWS Improves Resilience
When a ransomware attack hits, hospitals are forced to shut production systems down, as well as disaster recovery environments. This works well for defending against attacks, but can have devastating effects on patient care. When clinicians can't access patient records during this time, it reduces their ability to provide effective care.
AWS is changing this. Organizations that are hosting a read-only copy of Epic on AWS are able to access Epic production data during ransomware attacks. The cloud read-only solution is a near-time replica that is only seconds behind Epic production and can be activated in minutes. This reduces recovery point objective (RPO) of Epic data to mere seconds.
Read the Blog: Ransomware Resiliency with Epic on AWS
Epic on AWS Improves Scalability
Due to Epic's highly distributed and complex nature, performance and optimization require upgrades to hardware every 3-5 years, resulting in significant capital investments and unexpected spending in out-of-cycle years. The considerable capital investments can and usually involve upgrading the server hardware and storage arrays that host the Epic production environment. The out-of-cycle years can produce unexpected spending with vulnerabilities like Meltdown and Spectre.
In 2017-2018, Epic advised customers that additional hardware would be required to offset the performance loss due to vulnerability mitigations that Intel released. Larger-than-normal spikes can accompany these significant capital investments, like those that occurred in 2020-2021 due to COVID-19. COVID paralyzed the supply chain and adversely affected the speed at which providers could acquire additional hardware required to maintain Epic performance.
But with Epic on AWS you have access to near infinite scalability. You can architect your system to handle large fluctuations in demand and to scale back down when demand decreases in order to reduce costs, so you can more easily adjust to changing circumstances. In addition, Epic quarterly releases can be deployed faster, and infrastructure can be easily right sized to align with growth.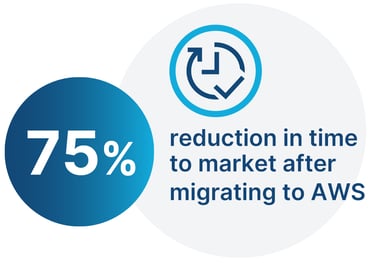 Epic on AWS Improves Data Security
Maintaining an efficient security apparatus in data centers can be challenging. Some providers outsource security operations centers to 3rd party providers because finding and affording talented cybersecurity professionals can be difficult, due to the cybersecurity skills shortage. According to multiple sources, healthcare is the top targeted industry for ransomware due to sensitive patient data in 2022. Constant threats can be challenging to keep up with in data center environments and require rigorous planning for mitigation and response.
Moving Epic to AWS simplifies healthcare data security because security is a shared responsibility in AWS. That means that AWS customers have less components to worry about in terms of their IT security than they would on prem, since AWS secures the physical infrastructure and software components and make up the cloud.
Epic on AWS also strengthens data security because cloud service providers prioritize security as part of their business model and continually hire the best cybersecurity talent and invest in best-in-breed tools.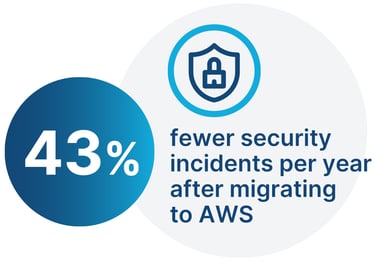 Source: Nucleus Research
Epic on AWS Let's You Focus on Healthcare, Not IT
When you run Epic on AWS your IT team can shift focus from keeping the lights on to the things that actually drive value for the business. For example, you can focus on building out your Epic environment so you can optimize your clinical workflow for better patient care and clinician user experience.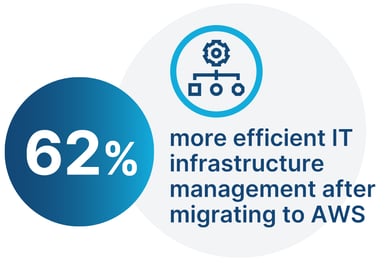 Source: IDC
The Challenges of Migrating Epic to AWS
Moving Epic to AWS solves multiple challenges for healthcare IT, but the path to realizing this value is not without difficulty. Epic on AWS provides significant cost savings overtime, but the upfront migration costs can deter organizations from going this route.
Here are the challenges of migrating Epic to AWS.
Complexity
Epic is arguably the most difficult workload to move out of a traditional environment and into a hosted environment like AWS quite simply because so many things are tied to it. A mid-size medical center will have over 500 co-traveler applications that interface with their Epic instance to manage. That theoretically translates to as many as 500 unique vendors to work with to move those connections. The effort involved is not insignificant.
Expertise
There's a cloud skills shortage, as demand for cloud resources is rapidly outpacing the supply of qualified professionals. Some companies choose to upskill their current employees by training them in cloud technologies, but the problem with that is cloud skills take years to acquire. There's simply no substitute for real-world experience.
It's incredibly risky to go all in on cloud without the proper resources to manage and secure the environment. Healthcare is continually the number one industry targeted by hackers because of the comprehensiveness of health data. Gaps in cloud talent can potentially put sensitive data at risk.
Culture Change
After cloud projects are implemented, there is a level of internal culture change that is required in order to successfully maintain those systems. Applications can't be run on the cloud in the same manner that they were run on legacy systems. The culture shift needs to happen around utilization, optimization, and a new way of running databases and systems. Most organizations will experience some pushback by IT personnel in this regard.
Cost Management
Migrating your applications to the cloud usually has cost benefits eventually, but early in the process costs can actually go up for a variety of reasons.
For one thing, AWS deployments must be expertly tuned to ensure that resources are allocated and deallocated effectively, avoiding the case where unused instances remain provisioned and thus incur charges. Data transfers are another potential pitfall, because cloud providers charge a per-gigabit fee when you move data out of the cloud. Therefore, applications that move large volumes of data between your data center and the cloud can drive up your cloud bill substantially. Applications that sync data between cloud and local data centers are particularly susceptible to this situation. Before finalizing on a cloud migration, you would do well to consult with a knowledgeable MSP who can help you navigate the different pricing options offered by the provider and fine tune your usage to keep costs down.
Get the FREE Guide: Tackling Your Epic to AWS Migration – 5 Things You Need to Get Right
FAQs
Does Epic run on AWS?
Epic Systems software can be run in whole or in part on the public cloud infrastructure operated by Amazon Web Services (AWS).
Is Epic in the cloud?
Epic Systems software has traditionally been hosted on a data center operated by the hospital or healthcare organization. However, the trend is to use the public cloud – especially AWS – to host portions of Epic while continuing to run other parts locally.
Is Epic a database?
Epic Systems software is at heart a repository of electronic health records (EHRs, also called electronic medical records) and the software tools needed to use those records. One of the Epic tools is a high-performance database that is optimized for the requirements of the healthcare industry.
Why is Epic software so popular?
More than 50 companies offer some form of electronic medical records. Epic Systems leads the pack with 31% market share because of its broad coverage of hospital departments, ease of use, excellent customer service, and willingness to work with clients to customize the software to their needs.
What is Epic used for?
Epic Systems software provides a secure, centralized repository for information about patients, also known as personal health information (PHI). Doctors, nurses, and other care delivery staff use Epic to access historical medical information that they need to create appropriate treatment plans for their patients.
Next Steps
Ready or not, your Epic Systems software is moving to the cloud. That's a good thing for your healthcare organization, but pulling it off requires specialized expertise. Your best bet is to partner with third parties who have the expertise and experience to shepherd you through the process. Look for a managed services provider (MSP) with a sharp focus on healthcare IT, a proven track record, and the willingness to transfer knowledge during the project. Cloudticity is just such a company – schedule a free consultation today!