With 94% of enterprises using cloud services, it's safe to say that cloud computing is in full swing.
As organizations move more data and applications to public cloud service providers, IT teams are looking for more efficient ways to manage and optimize cloud operations and workloads. While many companies choose to build out internal expertise within an organization's IT department, an increasingly popular option is to work with a managed service provider (MSP) who offers managed cloud services.
There are benefits and risks to managed cloud services. In this blog, we'll explore both the pros and the cons so you can make an informed decision about the best option for you.
What are Managed Cloud Services?
Managed cloud services are a type of managed IT services that help businesses manage, maintain, and optimize their cloud infrastructure, applications, and operations. These services are designed to support organizations that may not have the in-house expertise or resources to manage complex cloud environments on their own.
What is a Managed Cloud Service Provider?
A managed cloud service provider is a type of MSP that provides managed IT services for cloud environments. These third-party providers have been certified by cloud service providers (CSPs) to offer cloud management services for maintaining, securing, and optimizing cloud infrastructure and operations. Backups, disaster recovery, and patching are all activities that a managed cloud service provider would handle.
What are the Benefits of Managed Cloud Services?
Managed cloud services can help organizations augment staff in a highly competitive job market and simplify internal IT strategies by reducing the moving parts involved.
Here are the main benefits of managed cloud services.
Overcome the cloud skills gap.
The global cloud computing market was valued at $483.98 billion at the close of 2022. Despite cloud's growing popularity, the demand for cloud services is vastly outpacing the supply of IT professionals with the necessary skills to manage cloud environments. Cloud computing skills are among the most highly sought after skills on the job market. Cloud engineers demand competitive salaries and benefits. Oftentimes, the best talent gets scooped up by the Amazon's and Google's of the world and their partners, meanwhile SMBs and Midsize companies are left scrambling trying to fill the empty roles on their rosters, trying to avoid the ill fate of a failed cloud implementation.
While upskilling current team members is an option, the cloud takes time to learn. It's suggested that a person study for 150 hours before taking the AWS Solutions Architect Associate exam. After that, it's advised to spend two years working with the AWS cloud before taking the higher level Solutions Architect certification. There's just no substitute for real world experience.
Working with a managed cloud service provider can help you overcome the cloud skills gap and gain access to the talent and resources you need to set yourself up for success. Cloud MSPs focus heavily on ensuring staff are up-to-date with cloud certifications, making sure they're competent in utilizing a wide array of cloud services to provide solutions.
Keep it simple!
Managed cloud services can help you reduce the complexity that comes with managing and maintaining internal staff, tools, and processes.
Instead of hiring a team, procuring and provisioning piecemeal software tools, managing and training that team, providing benefits, vacation time, and then re engaging in exhaustive recruiting cycles when employees leave, your cloud MSP will essentially be a one-stop-shop for your IT needs. You'll get access to staff, a suite of tools, support, training, and even a cloud strategist in some cases to help you align software needs with business goals.
So you can worry less about all the moving parts involved in cloud operations and infrastructure management and focus on your core business goals instead.
Save money.
Many people think that building cloud operations in house will be cheaper, but in many cases you can actually save money with managed cloud services. That's because MSPs manage their own people and provide a suite of software tools and already-baked processes that you can simply be looped into, instead of starting from scratch. This can streamline your time to productivity and reduce the internal disruption of things like hiring, training, and operationalizing tools and processes.
More often than not, organizations grossly underestimate the skills and resources needed to manage cloud operations. Here are some of the soft costs involved in cloud management that many organizations don't account for:
Benefits: Besides providing salaries, insurance, 401K matching, paid time off, and employee devices all must be provided.

Recruiting fees: industry average rates range from 15-30% of the first-year salary, but cloud engineers typically run in the 20-27% fee range.

Ramp time (time to productivity): Some engineering roles require as much as 11-12 months to ramp up and begin operating at 100% productivity.

Onboarding: The average onboarding cost for a new employee is around $4,700.

Employee attrition: The average software engineer has a tenure of around three years at a given organization. Once they leave you must start the cycle of recruiting and onboarding again.

Training and certification costs: While cloud certification exams may only cost $150 to take, there are training courses your organization will need to invest in that cost upward of $1000. In addition, since some of these higher level cloud exams recommend over 100 hours of studying time, the training time can take away from time spent by employees being productive.

Software licenses: You'll have to buy a stack of cloud management tools, plus purchase all the necessary seats for your team. Also, don't discount the time it takes to deploy, configure, and test those tools in order to get them running to full capacity.
Process documentation: You'll have to create and document new business processes. Then, you'll have to test them out and optimize them over time until you become fully efficient.
If you do the brain exercise of accounting for all these soft costs, the MSP option begins to look more appealing.
Reduce your risk of a security breach.
We've already touched on the cloud skills gap, but there's also a cybersecurity skills gap. At the time of this writing, there are 755,000 open cybersecurity jobs on the market. 70% of companies report a shortage of cybersecurity talent and 60% of companies report it takes three months to hire a cybersecurity professional.
While cybersecurity positions lay empty, how can organizations ensure sensitive data is not at risk?
A managed cloud service provider that also offers managed security services can help. By providing cybersecurity professionals to monitor and manage your cloud, as well as tools like cloud security posture management (CSPM) and support services like incident management, managed cloud services can help companies fill the gaps in security and take the necessary measures to ensure data is protected.
Get more ROI out of your cloud investment.
The cloud is a robust set of tools. Like any tool, it can only deliver value if you put its capabilities to work and maintain it correctly.
A lot of companies claim recently to have not achieved cost savings ROI with the cloud. And that's because of poor architecture and operations that are causing them to waste money and not gain benefits, like agility and speed of innovation.
If you don't do cloud correctly, the cost could be significant. Including the opportunity cost of missing out on the potential advantages of cloud, like modernizing your business and deploying more features.
The cloud has the potential to be incredibly resilient. You can create disaster recovery strategies that span over six or seven datacenters, or even more, for critical workloads. You can deliver business resilience by leveraging load balancing and auto scaling, which can help you stay performant and available during fluctuations in demand.
You can also use things like serverless functions for smaller application actions that reduce costs and dependencies of applications.
The right managed cloud service provider can help you make the right architecture choices, design business processes, and align your usage with cloud best practices, like the AWS and Azure Well Architected Frameworks, in order to meet business goals.
Adopt the latest technology.
CSPs stay on top of adopting the latest technologies so they can offer them to their customers as a competitive differentiator. Things like machine learning instances, natural language processing tools, and data analytics can all be used out-the-box from CSPs and integrated into applications.
But as with any tool, there's a learning curve to be able to put these tools to work. The right cloud MSP will stay on top of what services are coming down the pike and be able to provide resources to help you put the latest and greatest technologies to work so you can provide value for your customers.
Increase focus on core business functions.
IT infrastructure management is an undifferentiated activity, meaning that it doesn't provide any competitive differentiation for your organization, beyond just having a reliable app (which you should have, regardless).
By outsourcing this function to a managed cloud provider, businesses can free up valuable time and resources to focus on their core competencies that do provide market differentiation. Things like developing innovative features, providing healthcare or other services, or solving complex problems are examples of activities that can receive greater focus when organizations work with a managed cloud service provider.
Risks of Managed Cloud Services
When choosing between solutions, there are tradeoffs and risks. Here are the risks of managed cloud services for you to consider.
Loss of control.
When outsourcing any function, it's inevitable that businesses will give up some control in exchange for simplicity. In some cases this is a good thing. After all, if your MSP is doing a better job than you would yourself, there's no need to have control over the function!
But some managed cloud providers will leave you in the dark more than others. For example, many MSPs offer a "black box" model for cloud management, which means they require you to migrate into their cloud environment to receive the monitoring and services.
By giving up full control of your cloud, you're at the mercy of your provider every time you want to make a change. If it's difficult to get in touch with them, you waste valuable time. In addition, if the relationship comes to an end you end up stuck with a migration project to get your workloads back into your own environment.
The better alternative is a partner that lets you own your own cloud and deploys the cloud management solution into that environment.
Do: Work with a cloud partner that lets you own your own cloud.

Don't: Choose an MSP that offers a "black box" management style.
Reduced agility.
Many managed cloud providers require you to go through a ticketing system in order to make changes to your environment. You have to send an email, wait for support to get back to you, schedule the call, and then get on the phone with your account manager to make the change. By the time that happens, you may have already changed direction and need something else. This reduces agility and puts a damper on ability to innovate.
To solve this problem, some next-gen managed cloud service providers offer pre-vetted infrastructure templates that allow clients to make changes to their own environments freely, while maintaining the same security and compliance settings as previous infrastructure.
Do: Work with an MSP that provides pre-vetted infrastructure templates.

Don't: Work with an MSP that requires you to go through their management to make changes.
Increased security risk.
If you work with the wrong managed cloud service provider, you could actually increase your security risk. Many MSPs claim to provide managed security services, but not all have the competencies and credentials to back this up.
Look for a partner with a clean security track record over a long span of time, not the one that just launched last year and doesn't have actual experience. In addition, look at their security and compliance credentials. Have they achieved certified status with HITRUST, SOC 2, FedRAMP, or any other security and risk management frameworks important to your industry? Do they monitor for OWASP or CIS benchmarks?
Do: Ask about track record. Work with an MSP that has never had a breach.

Don't: Work an MSP that hasn't' achieved third-party validated security accreditation.
Limited visibility.
Some partners will manage your cloud, but not provide any visibility into your cloud. If they tell you you're compliant, how do you know that's true? Plus, troubleshooting can be difficult when you lack visibility. It can be unclear if the problem is on the infrastructure side with your MSP or on the app side with your Dev team, causing you to waste precious time.
To avoid this problem, you'll want to work with a cloud managed service provider that offers a software solution that provides real-time visibility into your cloud environment resources and configurations. Ideally, this dashboard should show you any issues with reliability, performance, and cost optimization and show you what your security and compliance postures look like, with recommendations on how to clean up anything that needs your attention.
Do: Work with a MSP that offers a solution for real-time cloud visibility.

Don't: Choose a partner that leaves you in the dark.
High cost.
Managed cloud services can be a cost effective solution. But in some cases, they can be more expensive than doing it yourself.
In highly regulated industries like public sector and healthcare, managed cloud services will be more costly because of the security and privacy requirements and specialization required.
In many cases it can be more cost effective to work with a provider that offers tiered pricing with discounts that increase as your cloud usage grows. In that case, a company with a small cloud footprint may feel the services are expensive initially, but in time the pricing model may begin to make more sense as the business grows.
Also look at what services the cloud management provider offers. Managed security and compliance services are more expensive than managed services alone. And if the partner provides cloud cost optimization services with their managed cloud services offering, the money saved on your monthly cloud bill could be enough to offset the cost of services to a comfortable place. See Figure 1.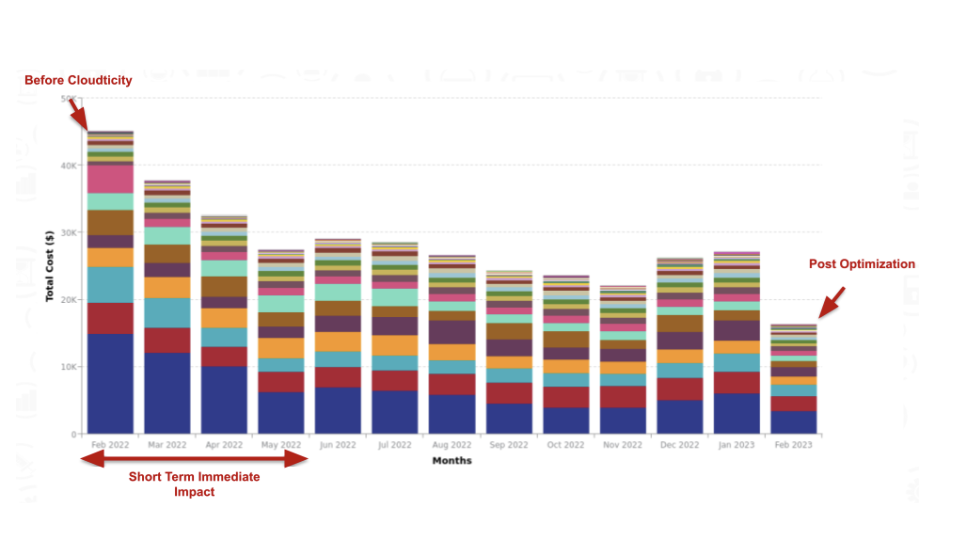 Figure 1: A healthcare company reduces its cloud bill by 70% in twelve months with the help of Cloudticity managed cloud services.
It's also common that organizations underestimate the cost of cloud operations. As discussed previously, people often don't account for soft costs involved in people management and the risks of a suboptimal deployment. In those cases, cloud managed services may appear more expensive outwardly, when in actuality they're not.
Do: Choose a partner you can grow with that offers discounts based on cloud usage.

Don't: Work with a partner that isn't focused on cloud cost optimization.
Why Managed Cloud Services?
Managed cloud services can help organizations stay on the cutting edge with their technology while minimizing the operational burden on IT operations teams. They can help organizations stay competitive and focus on their core business objectives, like developing innovative applications or providing high quality services.
Get Started with Managed Cloud Services for Healthcare
For healthcare and life sciences organizations and their partners, consider Cloudticity your managed cloud service provider. We're one of the oldest healthcare cloud partners in the world. We've built several firsts on the public cloud, including the first patient portal and the first health information exchange.
Schedule a free consultation with a healthcare cloud expert to learn how we can help you achieve your business and clinical goals using cloud technologies.