Automatically Check Healthcare-Related AWS Workloads for HIPAA Compliance

SEATTLE — April 13, 2021 — Cloudticity™, a leading provider of HIPAA-compliant managed services for Amazon Web Services (AWS), has launched a free automated tool for healthcare organizations to scan their AWS workloads for HIPAA compliance and security risk.
Executing more than 160 system checks, the 2021 Cloudticity AWS Technical Assessment quickly lets an organization see how its current cloud deployments stack up against healthcare industry security and compliance benchmarks — including HIPAA and HITRUST standards — and will deliver a comprehensive, high-level compliance report on an entire AWS account in about half an hour.
The report will also indicate the severity level of any issues found and denote instances where auto-remediation could be employed or user intervention is indicated.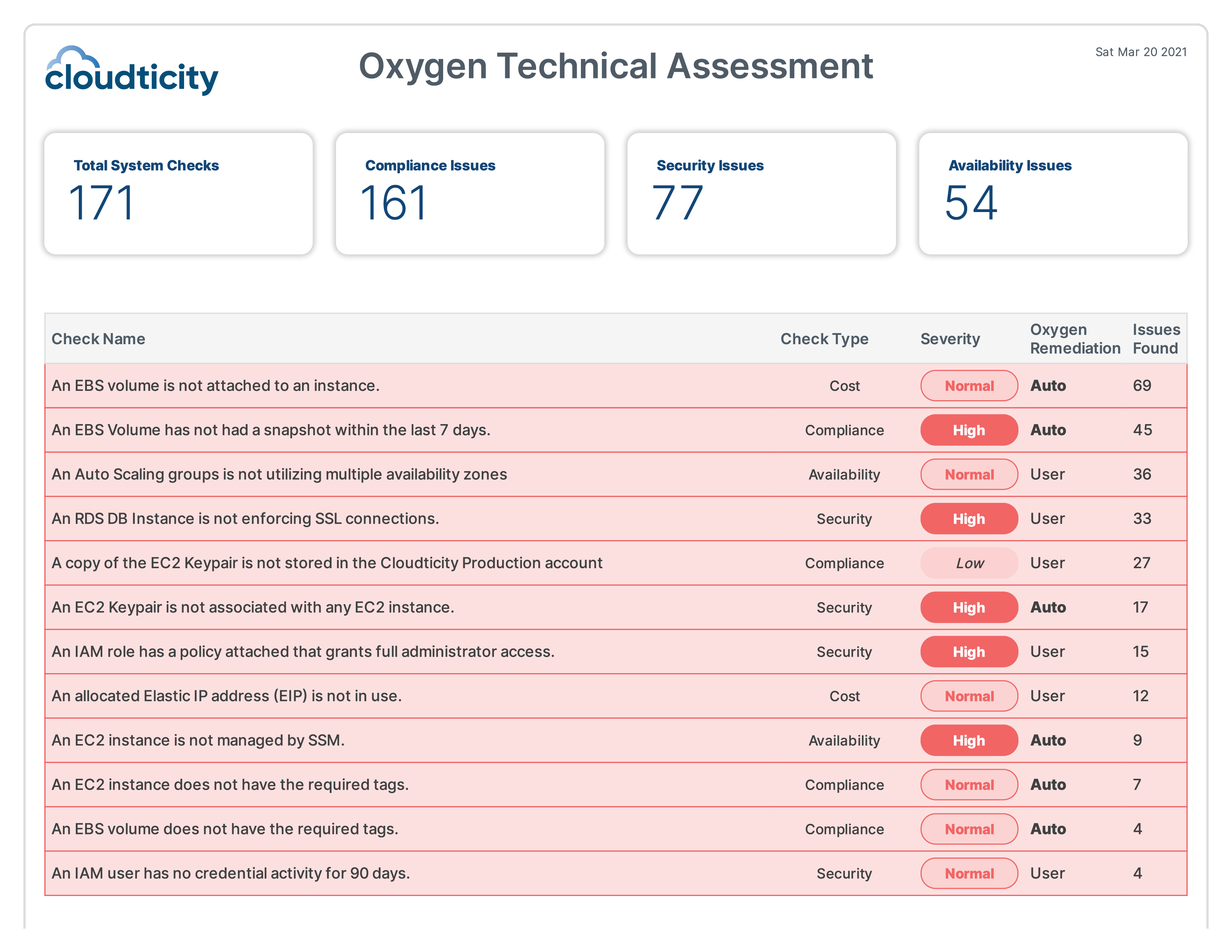 "The 2021 AWS Technical Assessment helps any organization working with healthcare data on AWS check that its systems are safe by identifying any security, compliance, availability and cost issues and potential risks," said Cloudticity CEO Gerry Miller. "We believe it's the most comprehensive free tool available for assessing AWS account workloads in the healthcare space, and consider it a powerful demonstration of Cloudticity's capabilities as a managed services partner to healthcare organizations in meeting compliance requirements for HIPAA, HITRUST, Cures Act ONC Final Rule, and GDPR among others."
Cloudticity helps healthcare organizations design, build, migrate, and manage HIPAA-compliant solutions on AWS. The AWS Technical Assessment uses the Cloudticity Oxygen™ platform's Assessment Engine to compile the free report and highlight issues that Oxygen could auto-remediate with its continuous compliance and security features.
Any organization using AWS for healthcare workloads can use the free assessment tool. Three easy steps deliver an email with a secure link to a detailed assessment report (valid for 48 hours) — no strings attached.
A four-minute video tutorial hosted by Rob Williams, Cloudticity Vice President of Product, explains all the technical details on how the assessment runs to compile and deliver the report.
To run a free 2021 Cloudticity AWS Technical Assessment, visit https://www.cloudticity.com/resources/aws-technical-assessment.
To view the video tutorial, visit https://www.cloudticity.com/resources/aws-technical-assessment-tutorial.
Media Contact:
Sterling Communications
Michelle Denny
+1 (408) 335-7331